LATEST BATHROOM TRENDS 2021
Surely after spending so much time at home during 2020 you feel like making even a small reform that gives a new life to your home. And maybe you are thinking about improving the bathroom, to finally transform it into that spacious and warm bathroom you always dreamed of. That's why we want to tell you what are going to be the trends for this 2021 and what are the latest developments.
As you know, the bathroom serves as a small oasis within our home, a space where we can relax and enjoy the end of the day. It is crucial that we find a comfortable, visually attractive and, above all, functional area.
In many occasions it is enough to change the floor or walls to achieve a spacious effect. In recent years vinyls have been one of the most acclaimed trends, since it is a very economical and easy to install change. But, for this 2021 it is no longer so.
The best combination is smooth walls and neutral colors, such as white, gray or beige, with a dynamic floor of simple and linear patterns. Although small size tiles are also going to be highlighted as a choice for the walls. 
With this we will achieve an effect of elegance that will make the room much cozier. In addition to these neutral colors this year will impose a completely different one: navy blue. A color that offers the advantage of being much less dirty and that will bring us closer to the sea water.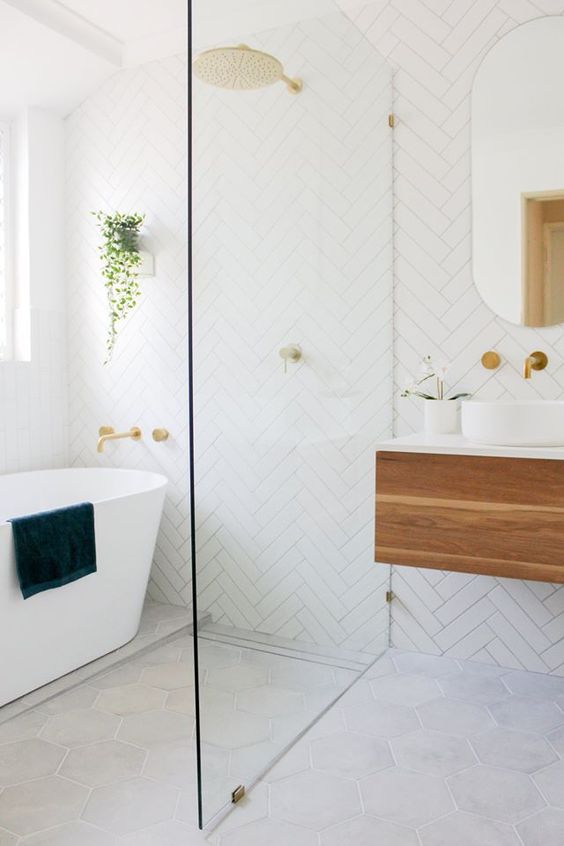 Sometimes we can apply cement as a finish for the walls as it is a material that assimilates moisture very well and gives a sense of peace and tranquility. Onyx will also be a trend for the finishes of surfaces and the fashion trend in bathrooms 2021 will be the details in gold, especially those materials finished in matte or satin. Whether in faucets, accessories or small decorative details, the important thing is the amount of light they can bring, in addition to the glamorous style and contrast that can produce with other more organic materials.
Of course, natural stone, or imitation stone, continues to be a hit, especially for large sauna or spa showers with fixed hydromassage columns or tropical sprays that fall from the ceiling. In addition, the combination of natural (bamboo, steel, linoleum) and sustainable materials with another type such as glass (for shower doors) will be one of the preferences of 2021 bathroom trends.
Although if there is a material that will triumph that will be the wood. Other years we have already seen how the bathroom space plays a very important role in home decoration and it is increasingly common to see that it and the bedroom go together. So the oak or wenge, both for floors or wall, and even furniture, will be the most used to achieve a harmony without great contrast between the two. A fresh texture that will give that touch of luxury to our space.
All this we can accompany it with marble or stone countertops and sinks in one piece, with the intention of achieving a simple minimalist but highly practical bathroom. Sometimes we can add some creative pattern area, such as braided or even handmade tiles, for the upper area of the sink creating a sense of valance, very common also in other stakes as the kitchen. On the other hand it is already almost a norm to install double sinks or sinks of support for a greater functionality of the bathroom. Something that will bring us comfort above all.
Finally, in these trends bathrooms 2021 will pay special attention to lighting. The trend, years ago, was that bathrooms had no window but now natural light will be one of the most important factors to get the perfect bathroom, provided, of course, we can install some kind of blind according to the style of the room, but always in a light color to let in light.
Our preferred faucet brands are:
If you are thinking of looking for a quality porcelain tile at a good price we recommend you:
If you liked this article you can see our bathroom renderings here